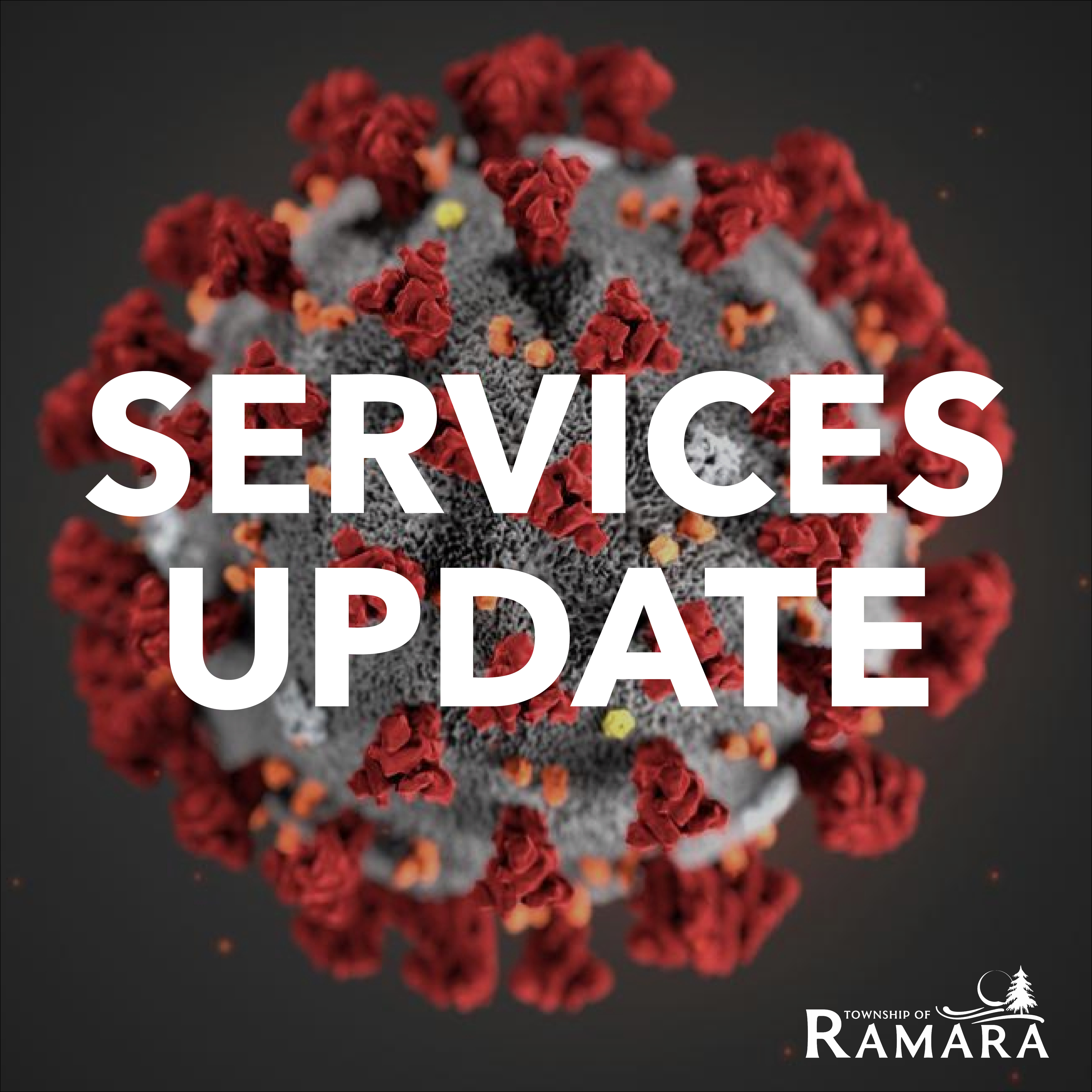 Immediate Release
Ramara/January 19, 2022 - To ensure that all residents in the Township have equal access to services, the Township will offer municipal services in-person, by appointment only, starting January 24, 2022. As well, the Township will allow walk-ins for services provided ONLY in the Finance Department, such as
Paying a Bill (taxes, utilities and accounts receivable)
Purchasing water tokens
Tax and utility bill lookup
Purchasing dog tags
For inquiries or services that do not require an in-person visit or appointment, staff will be available by phone, video or email during regular working hours. If an appointment is necessary the public is asked to either call or sign up using our online 'Book an
Appointment' tool. Appointments with staff will be booked in blocks of 30 minutes to ensure that proper physical distancing, cleaning and disinfecting occurs between appointments. All visitors and contractors will be required to complete and pass a
COVID-19 assessment before entering our facilities.
With the gradual reopening of the Township, municipal services are impacted in the following ways:
Effective January 24, the Township Administration Building will be open to the public for in-person services by appointment only.
Walk-ins will also be allowed for services ONLY offered by the Finance Department.
All Community Centres will continue to be closed to the public.
The Ramara Recreation Department will offer curbside and virtual programming.
The Ramara Township Public Library will offer curbside pickup and virtual programming.
All Council and Committee meetings will continue virtually.
All building inspections will continue as scheduled.
Effective January 5, 2022, at 12:01 a.m., until further notice, Short-Term Rental Accommodations are not permitted to operate unless rented to a person in need. Please note that this is due to the Province moving into a modified Step 2 of the Roadmap to Reopening plan.
All outdoor recreation amenities continue to be open.
Our Bylaw Enforcement team will be responding to complaints and actively enforcing all applicable regulations throughout the Township.
When visiting the Township Administration Building, the following safety precautions are now in place:
Everyone entering the facility is required to wear a face covering.
Members of the public will access the entrance located at the front of the building closest to Highway 12.
If meeting a staff member for an appointment, the public will need to complete the COVID-19 screening tool before entering the building.
Signage and floor decals will indicate proper physical distancing.
Everyone entering the municipal building is encouraged to use the hand sanitizer available at the entrance and regularly throughout their stay.
Residents are still encouraged to call in to speak with staff and access municipal services online where available. Residents can access all online services at www.ramara.ca/onlineservices.
The Township of Ramara is working diligently to keep residents informed during the COVID-19 pandemic. For more information on how services are impacted, how to book an appointment, and access to the COVID-19 screening tool, please visit www.ramara.ca/COVID-19.
-30-
Media Contacts
Ashley Watson
Manager of Communications, Business and Community Engagement
Township of Ramara
705-484-5374 ext. 322