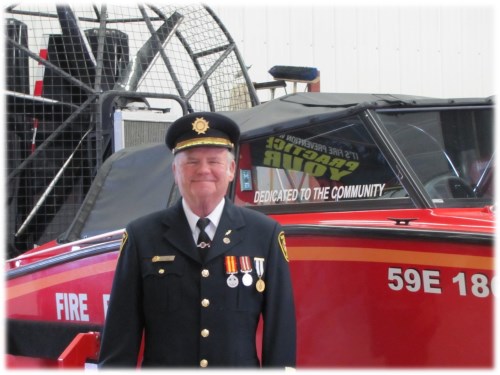 IMMEDIATE RELEASE
Township of Ramara remembers former Fire Chief, Ted Conway
Ramara/May 6, 2021 - It is with sadness we learned of the passing of former Fire Chief Ted Conway.
Ted Conway served Mara and then Ramara Township Fire Services for a total of 44 years and was Fire Chief for 19 of those years.
"We are greatly saddened by the death of Ted Conway, who was instrumental in creating the Fire department that we have today," said Mayor, Basil Clarke. "He truly will be missed by the Ramara fire fighting community and all those who had the privilege of knowing and working with him."
During his time with the Ramara Fire department, Ted demonstrated his devotion to the Fire Services department and the community. One of Ted's many achievements was his response to the train derailment in 2003 that was carrying sulphuric acid. Fire Chief Conway's response gained international attention as diverting a potential environmental impact disaster and ensuring the Ramara community and waterways were safe from this horrific disaster.
"I had the distinct privilege of having Ted as a mentor and gleaned as much as I possibly could from him in our time working together," reports Ramara's current Fire Chief, Tony Stong. "Ted was a true leader, he led by example and set a path for others to follow. Ted was a man of integrity and value and his promises were all good. Ted made the Ramara Fire and Rescue Services a better place by being part of it, and he will be greatly missed. Though Ted had retired in 2013, he forever remains an integral part of the fire service by the legacy he has left."
The Township of Ramara, including the Ramara Firefighter association, extends their deepest condolences, thoughts and prayers to Ted Conway's family and loved ones. On behalf of Council and the Ramara community, we want to thank Ted for his tireless efforts and the value he added to the Ramara Fire department and the community.
-30-
Media Contacts
Ashley Watson
Manager of Communications, Business and Community Engagement
Township of Ramara
705-484-5374 ext. 322
awatson@ramara.ca