Healthy, engaged people make a healthy, engaged community!
The Township of Ramara offers a variety of recreational activities for people of all ages and abilities. Whether you are interested in fitness, sports, arts, culture, wellness or personal development through special interest programs, we are constantly striving to find opportunities for you. Check out our Recreation Program Guide for a full list of current programs.
Recreation Program Guide
The Recreation team publishes program guides throughout the year outlining our programs and services that we
are currently offering. Each guide is helpfully laid out into sections so you can get to the program that suits you most.
| Season | Published | Session Dates |
| --- | --- | --- |
| Spring | March 1st | April – June |
| Summer | March 1st | June- August |
| Fall | August 1st | September – December |
| Winter | December 1st | January- March |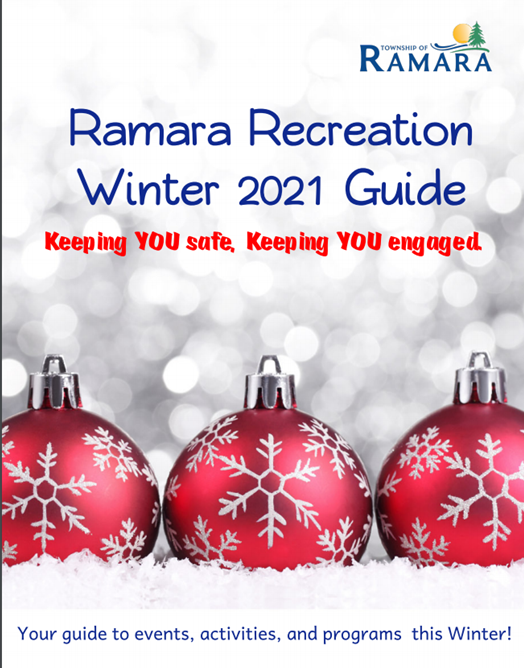 Click on the guide (to the left) to see what's on offer this season!
How to Register
There are several ways to register for our programs.
Locations
Most of our programs are based out of the Ramara Centre but we do use neighbourhood schools and other facilities when possible.
Program Changes and Cancellations / Weather Policy
We always hope that all our programs will run at the capacity and in the place we expect, but things happen. Sometimes a facility may be unavailable or an instructor has a conflict. We may not get enough participants to run or we also sometimes may choose to combine classes so that we can still offer opportunities. Winter weather is also a factor, mostly during January through March. In all cases, we make every effort to make up the class at a later date.
Often, these program cancellations due to weather come late in the day. All efforts will be made to contact participants in case of cancellation. Please ensure we have the correct numbers to get in touch with you. Alternately, we will change our message on theRamara Centre outgoing message and post the changes to our website or on our social media. Know – before you go!
NOTE – If your class is at a school property and the buses have been cancelled, your class is not necessarily cancelled. The school board makes determinations on community use later in the day and will choose to close school facilities independent of bus cancellations. Please call 705-325-3091 for confirmation.
Recreation Instructor Employment
The quality of our programs is only as good as the quality of our instructors! We pride ourselves in having a variety of long-standing program instructors who bring their expertise and enthusiasm to everything they do for our participants.
Have a unique talent or skill and want to share it with others? We have developed the following booklet to give you the guidelines on how to apply to be a part of our team.
Community Calendar
We have several events during the year where we welcome our community to come out and play, take an opportunity to learn or bring yourselves and your family out to meet new people and experience new things. Discover the heart of your community through events listed in our Community Calendar.
Photo Permission
Unless the participant or guardian indicate in writing or at the time the picture is being taken, the assumption will be made that permission is given to take pictures during any program to be used to promote our recreation programs and events.
Snowmanathon
A Ramara winter tradition! Every year from January through March we ask residents to participate in our annual "snow creations" building contest. Whether it's a snowman or snow family or something else just as creative, as long as it's built with snow! Simply build your creation, snap a picture for us and send it so we can show it off on social media. Pictures will be compiled and judged by a panel of "experts" and acknowledged by Mayor and Council in a spring meeting. All entries should be sent to recreation@ramara.ca Happy Building!
Photo Contests
Each year we ask the community to take part in some local contests that involve sending us digital pictures of the season's theme. These have included Halloween decorated homes, Christmas displays and Spring has sprung. You have always been so generous in showing off your community pride and we hope to continue for as long as you keep sending pictures in. Sometimes we even use them in promotional material (with permission) to show people outside of the region just how special Ramara is to us. Stay tuned to the Community Calendar for upcoming dates.
Waiver
By registering you or your child for any program, you waive and forever discharge the Township of Ramara, its employees, volunteers, partner organizations, sponsors and elected officials from all claims, damages, costs and expenses in respect to injury or damage to your/their property, however caused, which may occur as a result of participation in the listed recreation program.
Find us on Social Media
Freedom of Information
Forms that are collected during the registration process contain personal information and are maintained under the Municipal Freedom of Information and Protection of Privacy Act specifically for the purpose of creating a record of registration and in case of a medical or personal emergency. Information gathered is not a record of public document and is not available for public inspection.