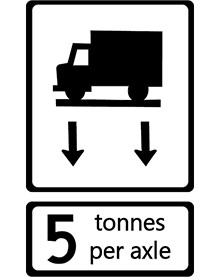 UPDATE: Reduced Load Restrictions ending April 24, 2023.
Reduced Load Restrictions "Half Loads" are in effect on Township roads from March 1st to April 30th each year. During this time all roads are posted at "5 Tonnes per Axle"
If needed, a reduced load period and can be posted at anytime during the year.
The website is updated when half load restrictions are in effect. Thank you for your cooperation.
Half load restrictions are established by Bylaw No 2003.08. Please note any person who contravenes Bylaw No 2003.08 is guilty of an offence and upon conviction is liable to a fine or penalty.