The importance of a high speed internet connection to rural residents can be seen as a basic utility; one that drives drives development in rural economies and acts as an important attraction tool. It is one of the Township's initiatives to reduce the digital divide and provide residents access to broadband services as they continue to work, learn and connect at home.
The Canadian Radio-television and Telecommunications Commission (CRTC) declared that high-speed internet is now a basic service and established a universal service objective that Canadians (in rural and remote areas to those in urban centres) have access to broad internet services.
Current Initiatives
UBF Fund
The Universal Broadband Fund has been designed to fund broadband infrastructure projects that will bring high-speed Internet at 50/10 Megabits per second (Mbps) to rural and remote communities. Learn more on the Government of Canada's Universal Broadband Fund page.
Rogers
On June 30th, Rogers announced that it has been awarded a partnership with the Government of Canada's Universal Broadband Fund to bring fast, reliable, high-speed internet service to Simcoe County. With the joint investment of over $3.2 million, the Rogers network will expand by 44 kilometres and will service over 1,000 homes in Gamebridge, Bass Lake and Orr Lake. Construction is expected to begin this Fall and be completed by mid-February 2022. Learn more by viewing the media release.
Township's Internet Plan
On September 27, 2021, Council signed an agreement with Rogers Communication Canada Inc to service 828 underserved premises with either wired or wireless services. The total investment is $4,816,833 with the Township of Ramara contributing only $425,000.
Service Gap Areas covered by Rogers Communication Inc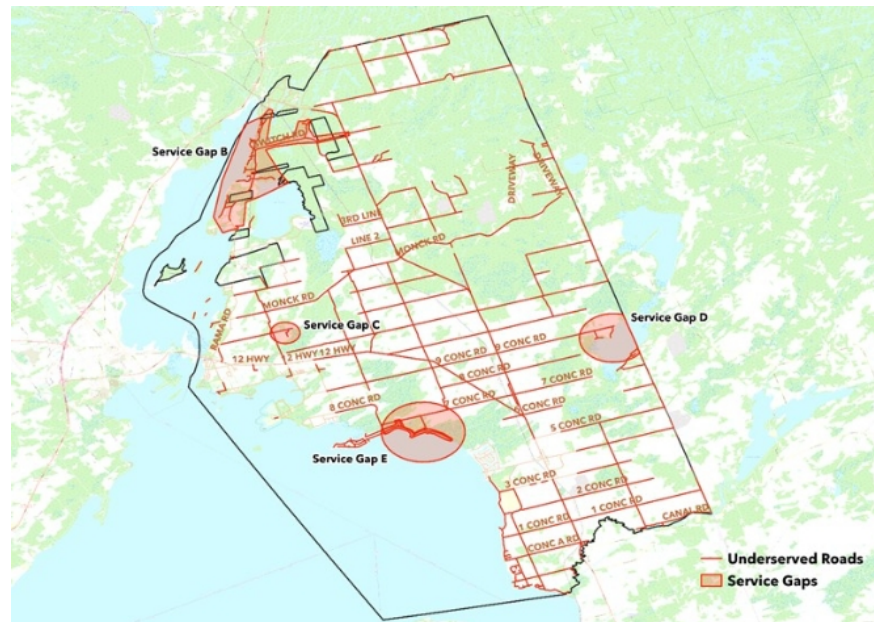 Coverage Areas

| Service Gap Area | Number of Premises | Fixed Wireless | Fibre to the Home |
| --- | --- | --- | --- |
| B | 533 | | 533 |
| C & D | 84 | 84 | |
| E | 210 | | 210 |
| Fire Hall #3 | 1 | | 1 |
On June 14th, Council approved the Internet Plan to improve broadband services in Ramara. The report identified seven service gaps around the Township that were identified using the CIRA performance tests and responses from residents. With the seven service gaps, over 800+ households will receive a minimum of 50/10 service.
As the Township works with the two internet service providers, more information will be updated on this page.
SWIFT Program
Southwestern Integrated Fibre Technology (SWIFT) is a non-profit municipally-led broadband expansion project created to improve internet connectivity in underserved communities.
ICON Fund
Improving Connectivity for Ontario (ICON) program is Ontario's new investment program that is investing $150M to improve broadband and cellular coverage in underserved and unserved communities.
Media Release - Ontario Improving Broadband and Cell Service for Rural Communities.
Internet Speed Test
The Township has partnered with the Canadian Internet Registration Authority (CIRA) to collect the most detailed information relating to internet speeds accessed by local residents and businesses. Residents and businesses can access CIRA's Internet Performance Test on any device without needing to download any additional applications.
Why Complete a Internet Performance Test?
CIRA's Internet Performance Test operates independently from any major internet service provider network and provides users with an overview of how their internet connection performances in real-world conditions.
When residents and businesses conduct this test, it provides the following:
Real time results about internet performance
Valuable metrics that demonstrate the need for and the impact of improved broadband.
Data that can be used with service provides, funding agencies and other stakeholders who are interested in improving the Township's connectivity.
How to do a Speed Test
The CIRA Internet Performance Test (IPT) is a quick and easy test of your internet connection. Learn more here on how to run a IPT.
Remember to do the following when performing a speed test:
Use a computer (laptop/desktop) to run tests
Use a direct connection (connect to modem or router)
If using the Wi-Fi network, stand next to modem/router when running test.
Use a trusted browser, such as Google Chrome
Disconnect all other devices.
Make sure no other applications are running on any devices.
What if I don't have internet?
With the CIRA Internet Performance Test (IPT), anyone can report where there is no internet. Learn more here.
We want to Hear from You
We want to hear from you about your internet needs. We have expanded the reach of broadband with the partnership with Xplornet, but we know there needs to be more. We invite you to send us your comments with your address and the current service being offered to you. We will not share this information, but it will be used only to determine future needs of the community. Please send your response to responses@ramara.ca . Please note that this email is not being monitored daily.
Community Engagement
Please visit our community engagement site, Reach Out Ramara, to learn about different ways you can provide feedback. Visit the internet page at https://reachoutramara.ca/internet.
As we learn more and do more on the issue of advancing rural broadband, this page will be updated. Remember to subscribe below to this page in order to get email notifications on when this page has been updated.