Wildlife
The Township is full of a variety of wildlife, and it's important to observe all wildlife from safe distances. If you have questions or complaints regarding wildlife, please contact the Ministry of Natural Resources and Forestry.
Learn more about how Ramara controls the feeding of Wildlife with the Feeding of Wildlife Bylaw.
Canine Control
Our Canine Control Bylaw governs pet licensing and regulations and dangerous dogs in Ramara. For domestic animal concerns, contact our By-law Enforcement Officers.
Licensing (Dog Tags)
As per bylaw 2005.76, all owners of dogs within the Township boundaries need to licence their dogs annually. Dog licences or Dog tags can be purchased online or at the Township Administration Office.
Licence regulations
Dogs must be licensed annually
Licences must be renewed before the last business day in February each year.
Dogs tags must be securely fixed on the dog at all times until tag is renewed or replaced.
Dog tags may be removed while dogs are lawfully being used for hunting in the bush.
Any dog older than 3 months must be licensed.
Limit of three dogs per household. (excluding kennels)
Fees
Dog Licence fees are an annual fee and any dog older than 3 months must be licensed.
$20.00 (not including HST) per dog on or before February 28th each year
$50.00 (not including HST) per dog after March 1st, each year
$2.00 per tag for Replacement Tag
How to Apply for a Dog Licence (Dog Tag)
Online
Please note that there will be a 4.5% convenience fee applied for credit card (Visa and Mastercard) payments.
By Mail
To pay by mail, complete the online application form and submit the form and fee (please enclosed correct amount). The form and payment can also be dropped of using the drop box at the Township Administration Centre.
In Person
Complete an application prior to arrival and visit us at Township Administration Centre or the Ramara Centre during business hours.
We accept cash, cheque or debit
Adopt a Dog
The Township's goal is to find the best match for the animals in our care based on the animals' needs. Currently, the Township does not have any animals available to be adopted.
Meet Parker - ADOPTED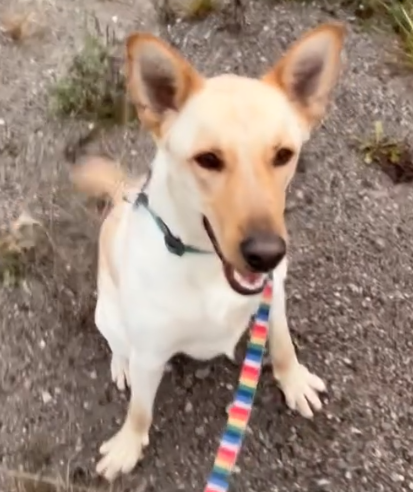 Parker is a 50-pound, non-intact male German Shepherd/Lab mix, approximately 18 months
old. Despite his long legs, he has many puppy-like qualities and has lots and lots of energy! In addition to regular doggy daycare visits, Parker worked with a trainer before coming into the Township's care and responds well to several fundamental commands like "sit," "shake a paw," and "down." He is also very food-motivated, so prospective adoptees are encouraged to have a handful of kibble nearby to incentivize Parker when needed. The best part is that he's not picky about your rewards – he takes them all with gusto!
Meet Fred - ADOPTED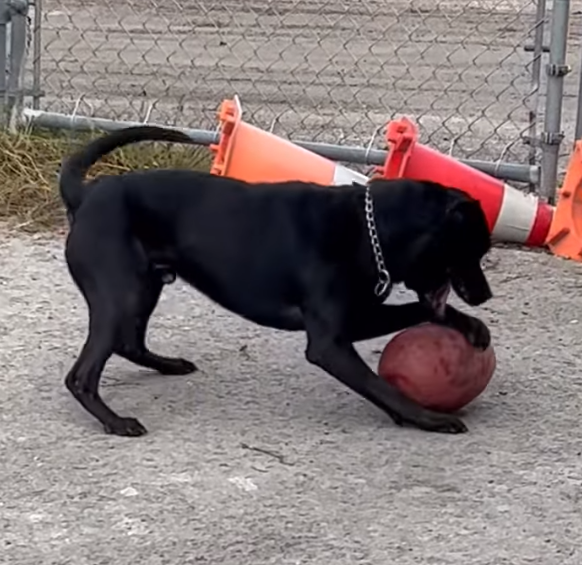 Fred is an intact male Black Lab mix of unknown age. Staff picked him up after running at large in the Sylvan Glen neighbourhood for several weeks without a collar or tag. When he came into the staff's care, he was quite lean; however, he has gained weight over time and is back up to a healthy 40 pounds. Fred appears to be 2-3 years old and loves to play with toys, especially the egg shown here. He needs fundamental training as he does not respond to commands like "sit" or "shake a paw" unless a reward is presented first. This suggests that Fred was exposed to formal training before coming into care.
Meet Rufus - ADOPTED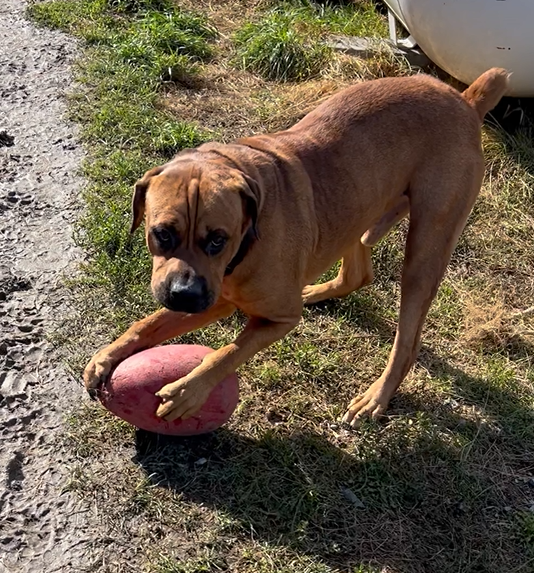 Rufus is a 75-pound, intact male Japanese Tosa. Rufus was found wandering at large in downtown Brechin without a collar and tag. Rufus is large, in charge, and unafraid to get his snuggles by placing himself directly in your path, so you can't avoid his love. He enjoys playing but can be reactive to new people and animals. With that, he will require particular care and attention in his transitional phase of finding a new home. His independence is very important, but once he has time and space to accept his new family, he will likely attach his mind, body, and soul to his new people.
Lost and Found pets
All dogs found in the Township of Ramara are posted on the Township of Ramara Facebook Account.
After-Hours
Canine Control After-Hours Line: 705-623-7295
Canine Control Officers are on-call outside of regular business hours on evenings, weekends and holidays.
Staff will respond to after-hours calls to take care/control of a dog if the dog is currently in the care/control of a person. Dogs found running at large that is reported to the after-hours line will be serviced the following day.
Stray and Feral Cats
At this time, the Township of Ramara doesn't regulate, license or have programs related to stray cat. However in 2023, the Bylaw Enforcement department will monitor any reported concerns or issues related to stray and feral cats.
Residents can submit their concerns online using the Report a Concern form. Please note that at this time, the Bylaw Enforcement department is monitoring concerns for information gathering purposes only.
Leashing your dog
Remember that it's the law to leash your pet when out on public property.
Leashed pets are:
Rarely hit by cars or attacked by wildlife
Less likely to run off and get lost, or eat and drink things that they shouldn't
Brechin off- Leash Park
Ramara's off-leash dog park is a place where dogs can run free. View Map
When visiting leash-free parks, be aware that there are other unleashed dogs at play. You are entering the park at your own risk. Parents should supervise their children at all times.
Rabies Clinic
In recent years, the Simcoe Muskoka District Health Unit has arranged a low-cost rabies clinic for animals in Simcoe Muskoka. Learn about when the rabies clinic occurs, COVID-19 instructions and additional information on the Simcoe Muskoka District Health Unit's website.