Posted on Tuesday, May 17, 2022 03:24 PM
Ministry of Transportation installing a roundabout at Highway 12 and County Road 169.
Construction is tentatively set to begin on the roundabout on Highway 12 at County Road 169 beginning Tuesday, May 24th, 2022 and is anticipated to be completed by the end of November 2022.
For further inquiries and/or concerns, please call 1 (800) 268-4686 or you can fill out a contact form or please visit here.

Posted on Thursday, February 10, 2022 08:18 AM
Please be advised that the South Footbridge located from South Island Trail to Turtle Path is closed until further notice.
We apologize for any inconvenience that this may cause.
Posted on Monday, June 20, 2022 10:03 AM
Road Hard Surfacing (slurry coat) is scheduled to start this week, weather permitting!
Mara Eldon Boundary Road
Canal Road to Concession Road A
Lakeshore Drive
Concession Road 2 to Concession Road 1
Lake Avenue
Simcoe Street to Beaver Trail
Plum Point Road
Highway 12 to Concession Road 10
Concession Road 10
Muley Point Road to Upterheights Drive
Patricia Drive
Courtland Street to Balsam Road
Winchester...
Posted on Wednesday, April 27, 2022 07:00 AM
UPDATE! ROAD REOPENED
Please be advised that Ash Crescent will be closed at Island Crescent from 8 a.m. until the repair is completed due to an emergency culvert repair. Local access will be maintained when required.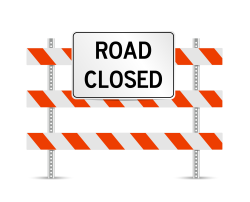 Posted on Friday, November 19, 2021 10:30 AM
Please be advised of the following emergency road closures for CN crossing surface repair. On Saturday, November 20, from 7:00 a.m. to 3:00 p.m., Concession Road 1 east of Highway 12 will be closed. On Sunday, November 21, from7:00 a.m. to 3:00 p.m., Concession Road 2 east of Highway 12 will be closed. Please be advised that the crossings will be inaccessible to road users for the duration of the closure.