Posted on Tuesday, December 14, 2021 01:41 PM
Immediate Release
Ramara/December 14, 2021- Last night, Council ratified the 2022 Budget adopted at the December 6, 2021, Committee of the Whole meeting.
Each year, the Township of Ramara must develop a budget that funds strategic initiatives and capital projects that sustain Township services and service levels. The 2022 budget outlines investments in customer service improvements, asset renewal and infrastructure, including road maintenance.
The budget represents a 2.86%increase (1.57% combined...
Posted on Friday, December 10, 2021 11:47 AM
IMMEDIATE RELEASE
12th Annual Snowmanathon Contest
Ramara/December 10, 2021 –The Township of Ramara Recreation department invites individuals and families to participate in the 12th annual Snowmanathon.
We ask the residents of Ramara to build a snow creation, from a snowman to a snowdog, and send a picture of their creative building skills to our recreation department before March 1, 2022.
"Every snowfall this year will be another chance for individuals or families to get out and enjoy...
Posted on Thursday, December 09, 2021 09:16 AM
Committee of the Whole - December 6, 2021
Please note that all Committee of the Whole decisions are subject to Council approval. The next Council meeting is scheduled for December 13, 2021 at 7:00 p.m. If you have any questions regarding agenda items or decisions made at Committee or Council meetings, please email council@ramara.ca.
Facility Optimization of the Bayshore Village Sewage Works
Sangeeta Chopra, Yaldah Azimi and Nick Leroux of Ontario Clean Water Agency (OCWA) presented the Facility...
Posted on Friday, December 03, 2021 11:13 AM
IMMEDIATE RELEASE
Ramara/December 3, 2021 - The Township of Ramara has launched a new Community Engagement and project page, 'Have your Say,' on the Township's website. The Township's previous engagement site, Reach Out Ramara, will no longer be active after December 8, 2021.
"The goal of Council and staff at the Township of Ramara is to provide meaningful engagement in the decision-making process to residents, businesses and stakeholders," reports Mayor Basil Clarke. "Before our new...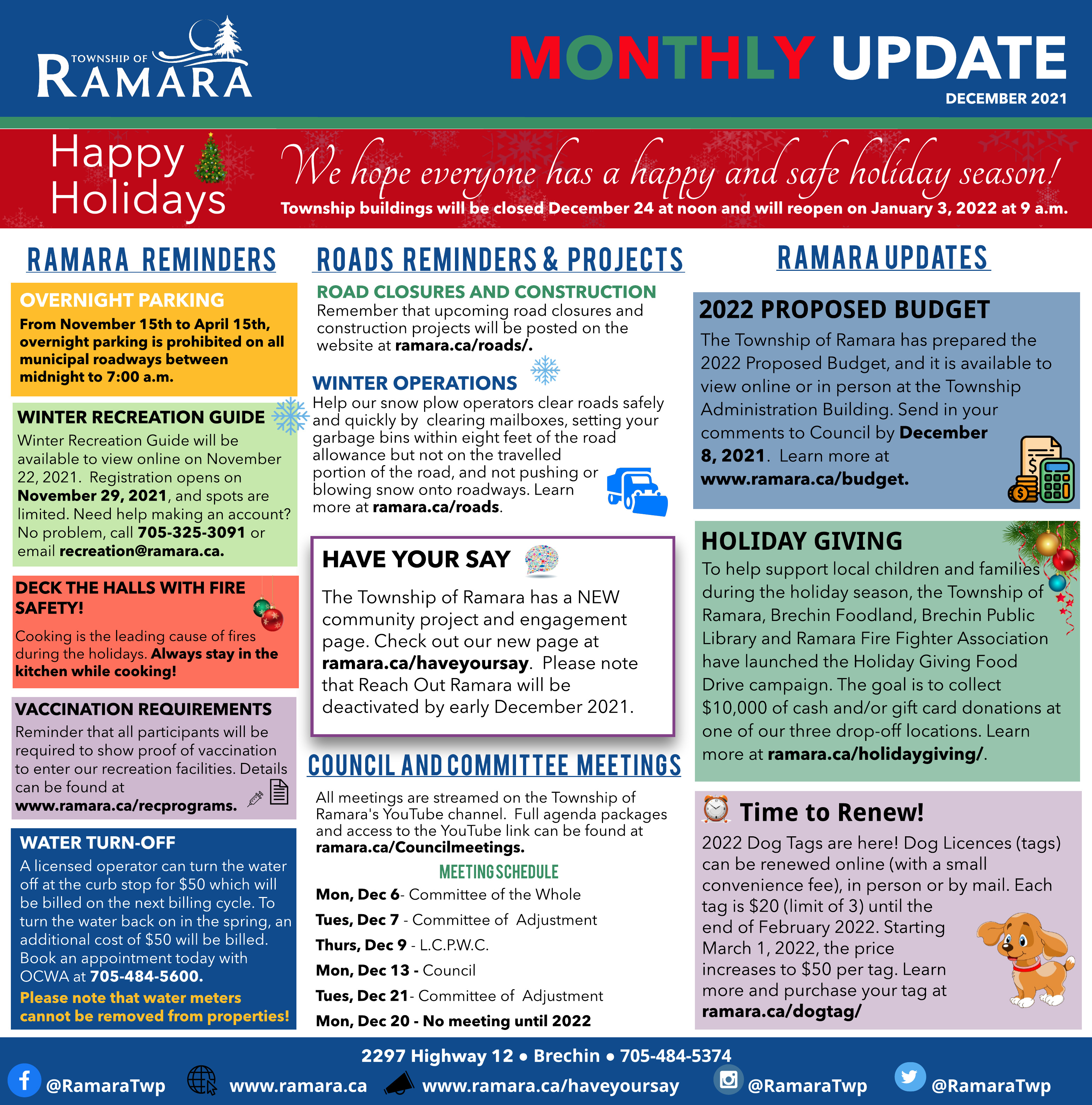 Posted on Thursday, December 02, 2021 12:31 PM
Check out Ramara's monthly bulletin that is published in the Orillia Today on the first Thursday of each month. Ramara's goal is to ensure that residents are well informed and engaged in matters. This initiative started in May of 2021 and all editions can be found on our Community Engagement page.