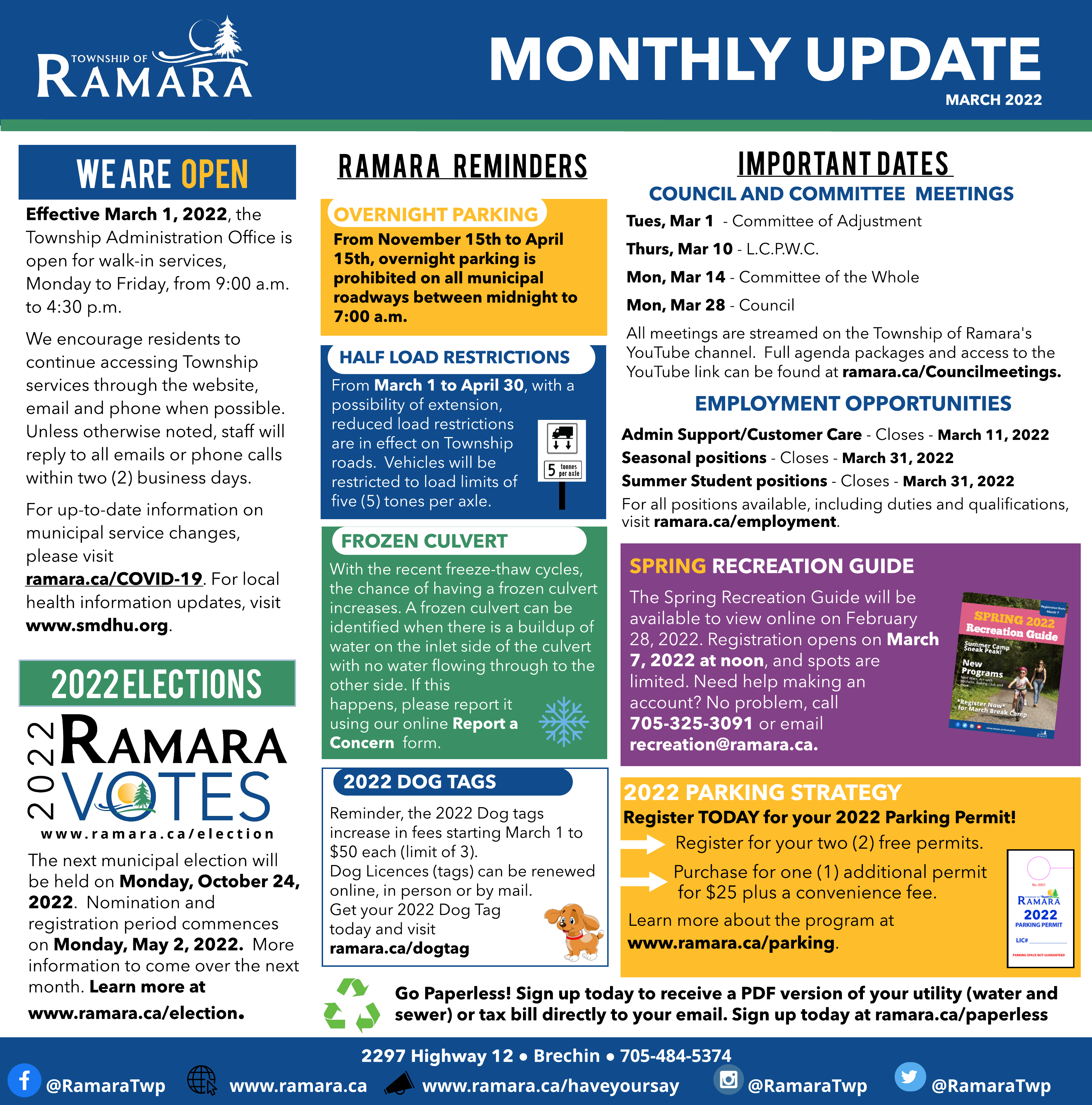 Posted on Wednesday, March 02, 2022 01:13 PM
Check out this month's Ramara Bulletin. Residents can find this publication in the Orillia Today paper on the first Thursday of each month. Ramara's goal is to ensure that residents are well informed and engaged in matters. This initiative started in May of 2021, and all editions can be found on our Stay Informed page.
Posted on Tuesday, March 01, 2022 09:08 AM
IMMEDIATE RELEASE
Ramara/March 1, 2022 - The Township of Ramara has developed an online Zoning interactive layer for the public to learn about planning rules on individual properties.
Over the past two years, the Township has expanded its interactive layers and access to information and tools for collecting data. The public can access information related to the following:
Zoning and Land Use Planning
Septic Reinspection Program
Short-Term Rental Accommodation Program
Wards
Trails
Bylaws
"The...
Posted on Tuesday, February 22, 2022 11:09 AM
Immediate Release
Ramara/February 22, 2021 - As COVID-19 trends and key health indicators across Ontario continue to improve, the Province has eased public health measures with additional changes expected on March 1. As a result, the Township of Ramara Administration office will be fully open to the public on March 1 at 9:00 a.m.
"The latest announcement from the Province demonstrates an important step toward better days ahead," states Mayor Clarke. "We are ready to welcome the...
Posted on Thursday, February 17, 2022 08:43 AM
Committee of the Whole - February 14, 2022
Please note that all Committee of the Whole decisions are subject to Council approval. The next Council meeting is scheduled for February 28, 2022 at 7:00 p.m. If you have any questions regarding agenda items or decisions made at Committee or Council meetings, please email council@ramara.ca.
Spirit of Ramara Award
The Spirit of Ramara award is a new award that will recognize community groups, organizations and individuals who have significantly...
Posted on Wednesday, February 16, 2022 12:17 PM
The Council of the Township of Ramara will be holding a Special Council meeting in Closed Session on Thursday, February 17, 2022 at 4:00 p.m. The meeting will be held electronically due to the Province wide state of emergency regarding the COVID-19 pandemic.
The purpose of the meeting is to discuss a litigation matter regarding the Fowler Quarry. The matter will be discussed in Closed Session in accordance with Section 239(2)(e) of the Municipal Act.
Dated this 16th day of February...