Posted on Friday, January 06, 2023 02:29 PM
Please be advised that effective immediately all bulk water transactions have been suspended at the Brechin Water Tower until further notice. We are working diligently to have the system back up and running as soon as possible.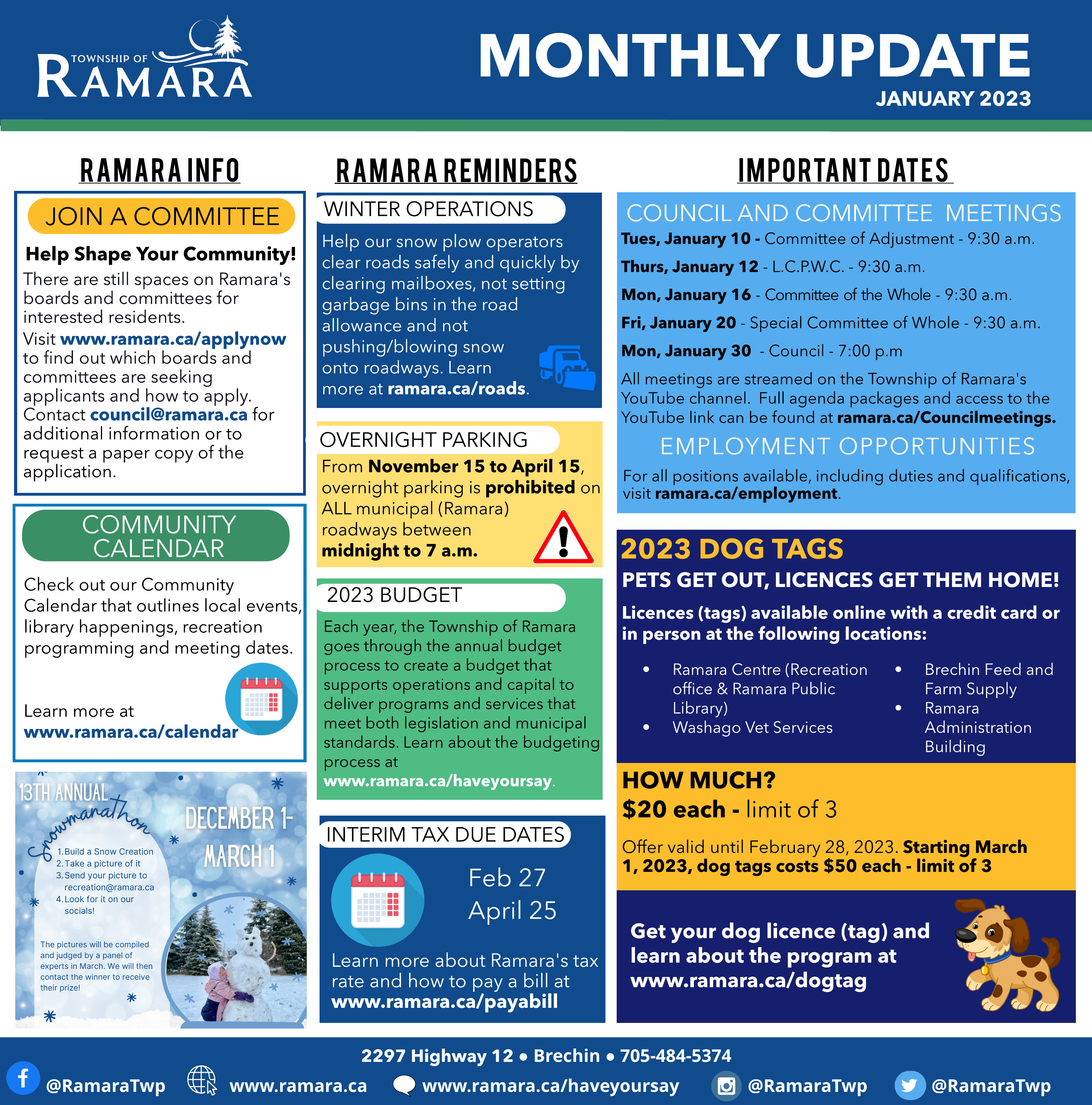 Posted on Thursday, January 05, 2023 09:20 AM
Check out Ramara's monthly bulletin that is published in the Orillia Today on the first Thursday of each month. Ramara's goal is to ensure that residents are well informed and engaged in matters. This initiative started in May of 2021 and all editions can be found on our Stay Informed page.
Posted on Wednesday, January 04, 2023 03:06 PM
The Council of the Township of Ramara will be holding a Special Committee of the Whole meeting on Wednesday, January 18, 2023 at 9:30 a.m. The hybrid meeting will be held in the Council Chambers at the Administration Centre and electronically via zoom.
The purpose of the meeting is to review and discuss the 2023 Budget for the Township of Ramara.
Dated this 4th day of January 2023.
Jennifer Connor, CMO, AOMC
Director of Legislative & Community Services/Clerk
Township of Ramara
P.O. Box 130,...
Posted on Tuesday, January 03, 2023 10:02 AM
IMMEDIATE RELEASE
Ramara/January 3, 2023 – The Township of Ramara's Recreation department invites individuals and families to participate in the 13th annual Snowmanathon.
We ask the residents of Ramara to build a snow creation, from a snowman to a snowdog, and send a picture of their creative building skills to our recreation department before March 1, 2023.
"Over the last thirteen years, it is always exciting to see the creativity in the community and watching all ages participate in...
Posted on Tuesday, December 27, 2022 08:10 PM
The Township of Ramara cancels the Significant Weather Event declared on December 25, 2022.
As per O. Reg. 239/02 under the Minimum Maintenance Standards for Municipal Highways, a municipality may declare a significant weather event when a weather hazard, either forecast or occurring, has the potential to pose a significant danger to users of the roadways in which they have authority. This declaration suspends the standard timelines required for municipalities to meet their winter maintenance...