Posted on Friday, May 06, 2022 09:16 AM
Notice of a Complete Application and Public Meeting Concerning a Proposed Zoning Bylaw Amendment (File Z-1/22)
TAKE NOTICE that the Corporation of the Township of Ramara received an application on February 24, 2022 and was considered a complete application on March 28, 2022,for a Zoning Bylaw Amendment for the land described as Part of the North Half of Lot 10 Concession 3, Mara, known municipally as 2123 Concession Road 4.
TAKE NOTICE that the Council of The Corporation of the Township...
Posted on Wednesday, May 04, 2022 01:25 PM
Please be advised that construction at Lovely Day Park (Atherley Park) for a new playground commences today. The work will be intermittent between now and the end of May. The playground area will be closed during construction and reopen once construction ends.
We want to thank the local community for their patience as they eagerly wait for a new playground. We will announce the playground's opening once construction ends and all inspections have taken place.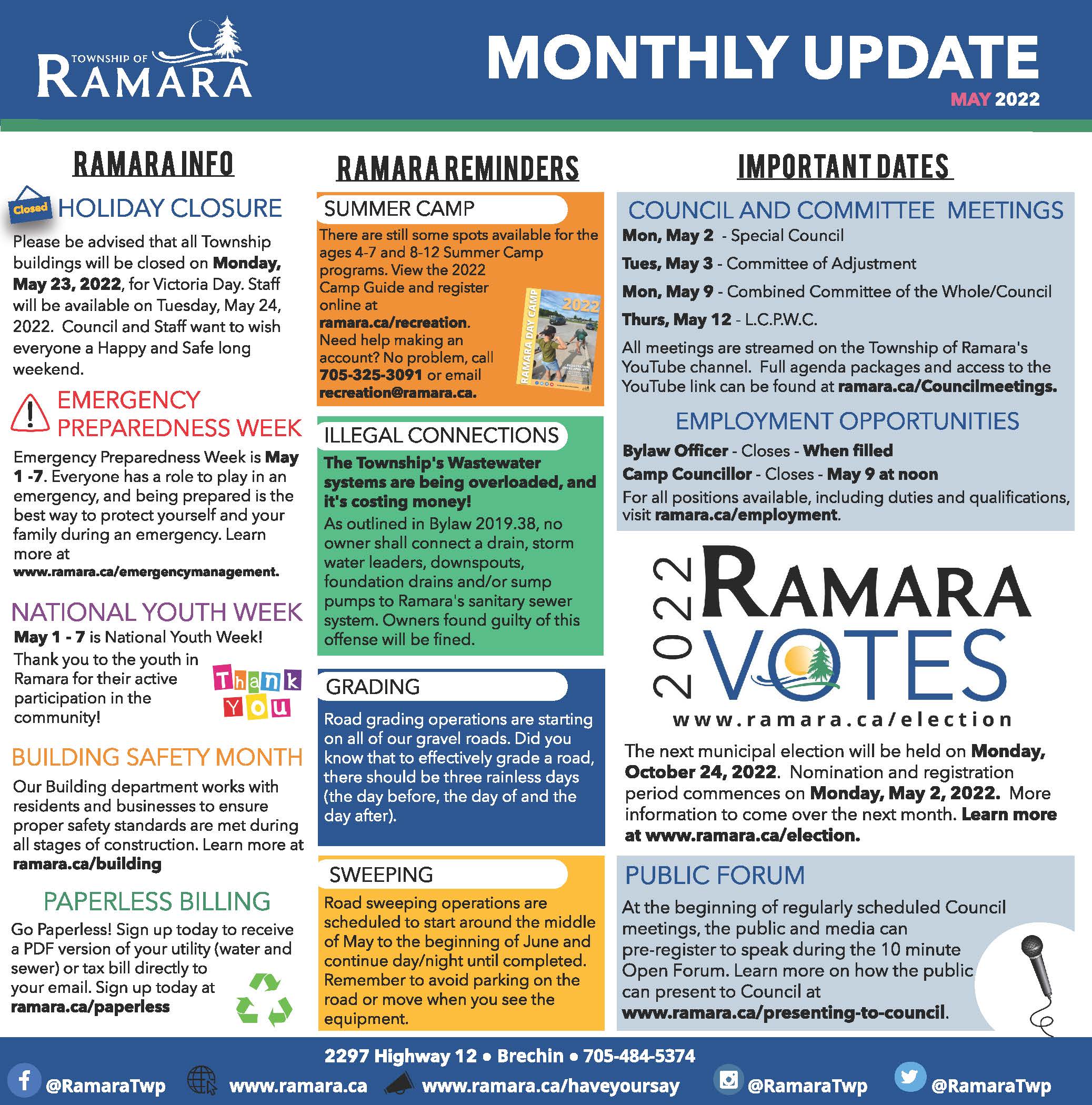 Posted on Wednesday, May 04, 2022 11:23 AM
Check out Ramara's monthly bulletin that is published in the Orillia Today on the first Thursday of each month. Ramara's goal is to ensure that residents are well informed and engaged in matters. This initiative started in May of 2021 and all editions can be found on our Stay Informed page.
Posted on Tuesday, May 03, 2022 09:46 AM
Immediate Release
Ramara/May 3, 2022 – On May 2, 2022, the Council of the Township of Ramara accepted Chief Administrative Officer (CAO) Jessica Gunby's resignation.
"On behalf of the members of Council and Staff at the Township, we want to thank Jessica for her service and wish her the best of luck in her future endeavors," states Mayor Clarke. "Council and I have full confidence in our amazing staff who will continue to ensure that the Township runs business as usual."
Moving...
Posted on Saturday, April 30, 2022 02:24 PM
Notice
Special Council Meeting in Closed Session
Monday, May 2, 2022 at 9 a.m.
The Council of the Township of Ramara will be holding a Special Council meeting in Closed Session on Monday, May 2, 2022 at 9:00 a.m. The meeting will be held electronically via zoom.
The purpose of the meeting is to discuss a solicitor-client privilege matter in Closed Session in accordance with Section 239(2)(f) of the Municipal Act.
Dated this 30th day of April, 2022.
Jennifer Connor, CMO, AOMC
Director...