Posted on Wednesday, March 17, 2021 10:38 AM
IMMEDIATE RELEASE
Come and Eggsplore Ramara
Ramara/March 17, 2021 - The Township of Ramara is celebrating Easter with a fun, family scavenger hunt contest that will take residents all around the Township.
The scavenger hunt is called 'Eggsplore Ramara,' and it will take families around to twelve surprise locations. Locations will be released 3 times a day on social media from Monday March 29th through Thursday April 1st. Families have all Easter Weekend to complete - contest closes April 5, 2021.
Residents...
Posted on Thursday, March 11, 2021 06:59 AM
IMMEDIATE RELEASE
Ramara seeking public input on draft ward boundaries in second round of public consultation
Ramara/March 11, 2021 - The Township of Ramara is seeking feedback from residents on potential ward boundary options in its Ward Boundary Review.
The Ward Boundary is Ramara's first comprehensive and independent review of the five existing ward boundaries since 1994. The goal of the Review is to ensure Ramara's wards continue to provide a system of effective and equitable representation...
Posted on Tuesday, March 09, 2021 10:51 AM
Road Closure
Regional Road 50 will be closed to through traffic between County Road 48 E and Canal Road, March
15 until the end of October 2021. All traffic will be directed to use Highway 12 as a detour route. The
Region and the County realize that the construction work will be disruptive and will make every effort
to complete the work as quickly and efficiently as possible.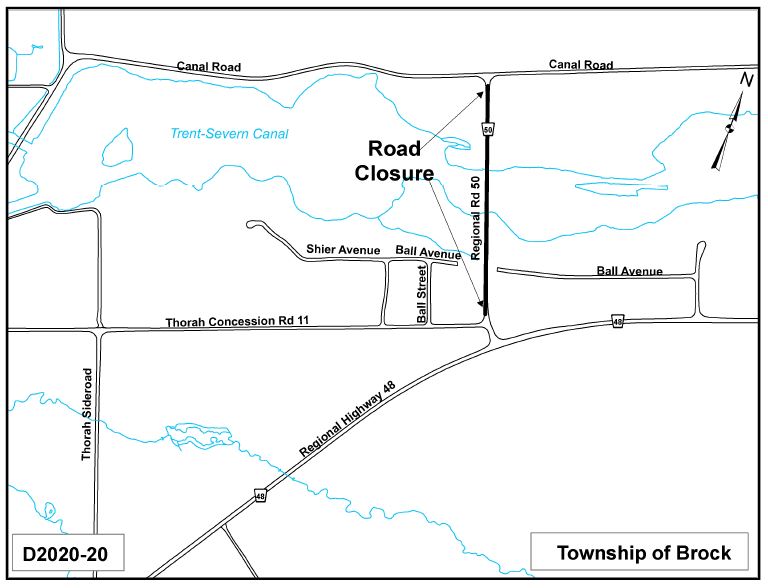 Posted on Tuesday, March 09, 2021 09:16 AM
NOTICE
Due to the overwhelming demand for hearing applications before the Committee of Adjustment for minor variances and consents, the April 6, 2021 Committee of Adjustment hearing has now reached its capacity limit.
Any applications for a minor variance or consent received after March 8, 2021 will be heard at the May 4, 2021 hearing.
If you have any questions, please feel free to contact the Planning Department.
Dated this 9th day of March 2021
Deb McCabe, CPT, ACST
Planning Supervisor/Zoning...
Posted on Friday, March 05, 2021 08:54 AM
NOTICE OF COMPLETE APPLICATION AND
NOTICE OF A PUBLIC MEETING
CONCERNING A PROPOSED ZONING BYLAW AMENDMENT TO
BYLAW #2005.85 AS AMENDED
TAKE NOTICE that the Corporation of the Township of Ramara received a complete Application for a Zoning Bylaw Amendment on January 15, 2020, for the land described as Lots 14, 15 and 16, Concession E, and Lots 14, 15 and 16, Concession F, formerly in the Township of Rama, now in the Township of Ramara known municipally as 1378 Concession Road D-E. Information and material...