Posted on Friday, December 02, 2022 12:11 PM
The Ramara Fire Association's Annual Stamp Out Hunger Boot Drive will be NEXT Saturday at the Brechin Foodland.
This initiative will help support the Feeding Families Campaign to support children and families in Ramara.
Addition locations maybe added, so please follow our social media accounts and website to stay informed.
Posted on Thursday, December 01, 2022 09:00 AM
Committee of the Whole - November 28, 2022
Please note that all Committee of the Whole decisions are subject to Council approval. The next Council meeting is scheduled for December 12 at 7:00 p.m. If you have any questions regarding agenda items or decisions made at Committee or Council meetings, please email council@ramara.ca.
Comments from Councillor Hetherington
Councillor Hetherington provided remarks to his constituents and family due to his absence at the Inaugural meeting. Councillor...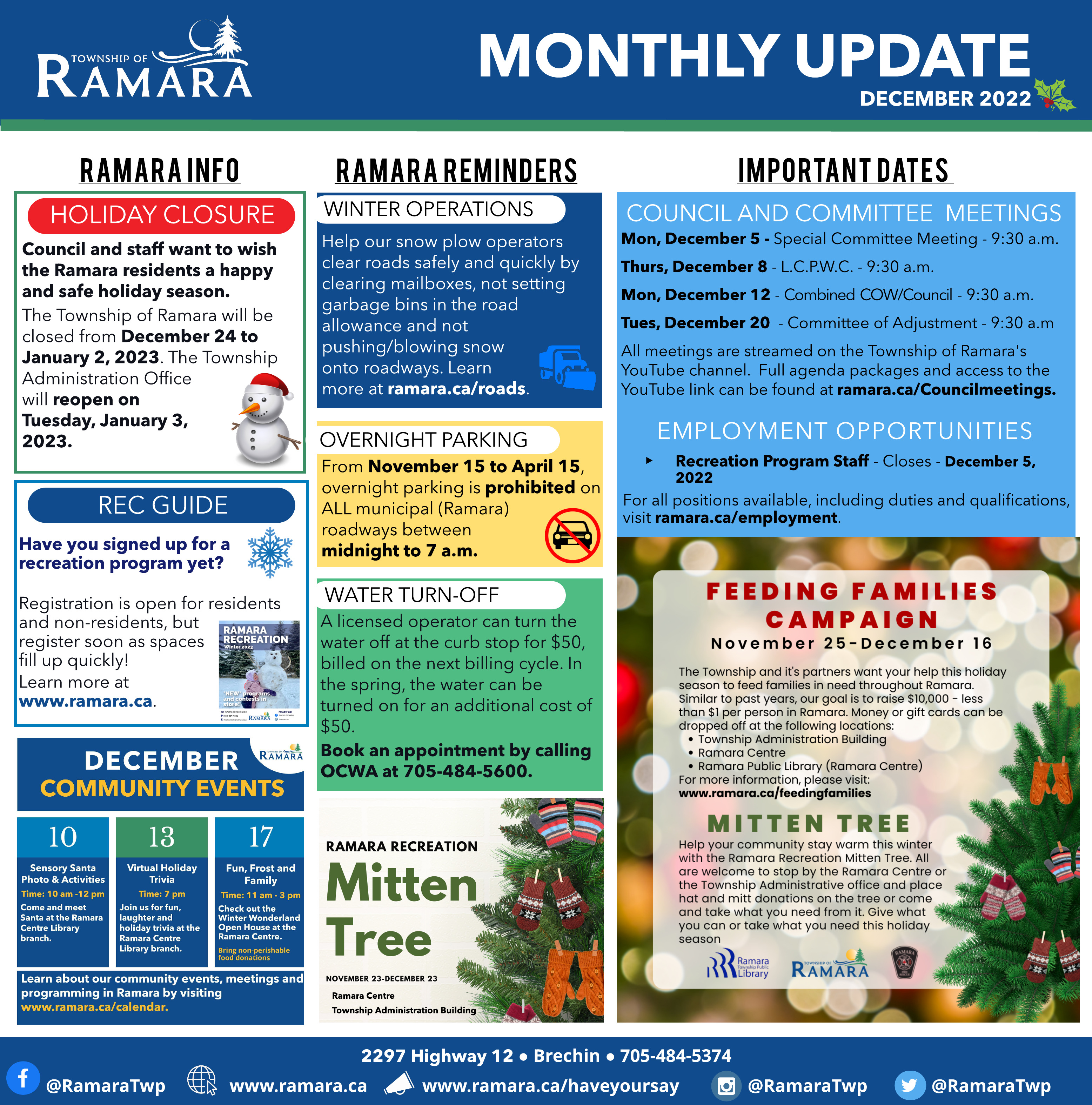 Posted on Wednesday, November 30, 2022 03:54 PM
Check out Ramara's monthly bulletin that is published in the Orillia Today on the first Thursday of each month. Ramara's goal is to ensure that residents are well informed and engaged in matters. This initiative started in May of 2021 and all editions can be found on our Stay Informed page.
Posted on Wednesday, November 30, 2022 02:47 PM
The Council of the Township of Ramara will be holding a Special Committee of the Whole meeting on Monday, December 5, 2022 at 9:30 a.m. The hybrid meeting will be held in the Council Chambers at the Administration Centre and electronically via zoom.
The purpose of the meeting is to review and discuss the 2023 Budget for the Township of Ramara.
Dated this 22nd day of November 2022.
Jennifer Connor, CMO, AOMC
Director of Legislative & Community Services/Clerk
Township of Ramara
P.O. Box 130,...
Posted on Friday, November 25, 2022 12:51 PM
IMMEDIATE RELEASE
Ramara/November 25, 2022– The Township of Ramara Public Library Brechin Branch will be closed until further notice.
Today, the Township of Ramara was informed that mould had been identified on the lower floor of the Mara Medical Centre, which houses the library. The library location will be closed until further notice to protect the health and safety of staff, residents and visitors.
The public can return any library books or resources to the Ramara Library at the Ramara Centre...